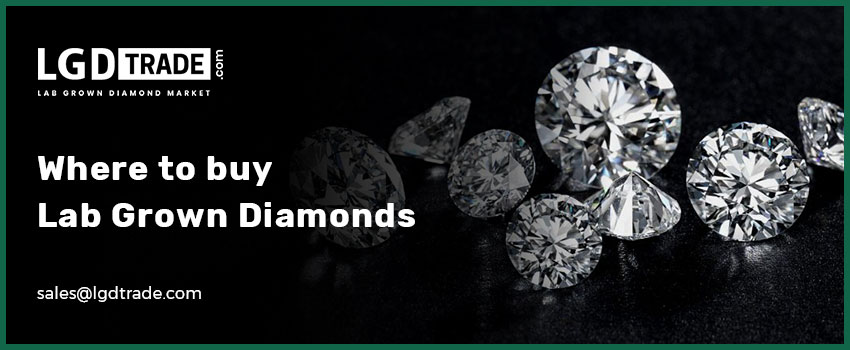 Where to buy Lab Grown Diamonds?
Lab grown diamonds are now more widely available in different places. Whether you are a firm believer in brick-and-mortar shops or you have taken on the online shopping trend, you will be able to find these diamonds.
However, not everyone can be trusted. You need to know where genuine lab grown diamonds can be found. This article will give you helpful information to conveniently find what you are looking for.
Best place to buy lab grown diamonds
A few things need to be considered when you are choosing the best place to buy lab grown diamonds. Key among the considerations are the following:
Is the place reputable?
Do the diamonds have a certificate?
Is the pricing fair?
Do you have a variety to choose from?
How convenient is it to purchase LGD from that place?
Some people may find it easy to walk into a diamond supplier's outlet or a jewelry store and get the diamonds they need. It does have advantages, for example, you will be able to talk to an actual person and then get real-time advice and clarifications. But quite often, you are limited when it comes to choice because you can only purchase what they have there. The best alternative if you want to have a wide variety of diamonds to choose from, is to attend an exhibition where many traders would come together and display their stock. However, this is not easy because these are annual events and you may not be able to wait that long if, for example, you need an engagement ring.
So what would be the best option? Well, taking into account the key considerations above, it is best to shop online.
You can easily find reputable LGD sellers online and reviews are available as well. When buying these gems online, you can also compare prices and choose the best price that suits your budget. Despite there being many traders online, some websites will have a collection of reputable diamond traders so that you can find what you want faster.
LGD Trade is one such website and you will be sure to find what you want. Shopping on this site is convenient, you will not have to go to several websites to compare prices and since it is solely for LGD, you will be confident that whatever you are purchasing is lab grown and not mined at the cost of the environment.
Where to buy cheap lab grown diamonds
Although lab grown diamonds are just as valuable as natural ones, you do not have to rob a bank to own them. You can still get high-quality diamonds at a favorable price. Most sites will indicate that you will spend 40% less on these diamonds than you would on the same diamond that was formed naturally. This doesn't mean you will be buying poor quality. It is just that the production cost was lower for these diamonds.
Shopping online, you can find diamonds for as low as $ 600. The carat you choose can determine the cost.
You will also discover that some sites have sales with great discounts. Before you choose a jeweler, compare the prices and ask if they have any special offers. Of course, it is much easier if you can find all the top sellers in one place. You can find that on LGD Trade where many sellers are trying to impress the buyers with cheaper prices than their competitors.
You can also find cheap lab grown diamonds on the MiaDonna portal. Their site is dedicated to providing affordable engagement rings to people all around the world.
Best Lab grown diamond suppliers
The best lab grown diamond suppliers may be manufacturers or even wholesalers who purchase from the manufacturers. The largest growers of these diamonds can be found in China and India. Even some big-name jewelers in the USA, Europe, and Australia depend on suppliers in India and China for lab grown diamonds. These are the top suppliers around the world.
Zhengzhou Sino-Crystal Diamond Co Ltd: This is China's biggest diamond creator. The company supplies diamonds not just for the fashion industry, but also for industrial purposes. With years of experience in the industry, they have been able to provide quality diamonds that meet international standards.
Limelight Lab Grown Diamonds Ltd: This is the biggest jewelry maker in India. They supply luxury jewelry to big markets in the USA as well as Europe. They are credited with making over 1.2 million carats annually. Quality at a reasonable price is something they are associated with.
WD Lab Grown Diamonds: They are America's top supplier of lab grown diamonds. Based in Washington DC, WD is known for growing a variety of diamonds. These include colored ones and clear diamonds.
You can also find many more suppliers online. Sometimes it depends on what you are looking for.
Where to buy lab grown diamonds in Europe
If you are in Europe and would like to buy lab grown diamonds, you can find several jewelry shops that sell these gems. The problem though is they may not be near you and you might not have the time to run around looking for the best one. Once again, we recommend shopping online. Here are some top options you can try.
Ritani: They have a great online store where you can make choices from diamonds of different shapes, colors, and sizes. Ritani is a reputable name in this business and their prices vary, so it is more likely you will find what you want there.
Novita Diamonds: Based in the UK, Novita sells its diamonds all over the world. They are known for engagement rings and ornamental lab grown diamonds like necklaces and earrings. They have efficient delivery systems and their return policy is acceptable.
LGD Trade: This website brings together all the lab grown diamond sellers that matter. As a one-stop center for LGD, it is convenient when you want to compare prices and avoid wasting time switching from one site to the next. It is like the Amazon of LGD.

Hopefully, you already know a bit about lab grown diamonds and now you know where to find them. Good luck with your shopping.