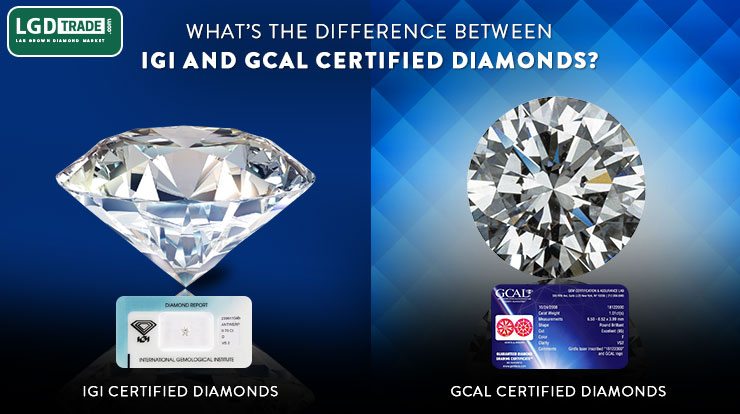 Diamonds which you own or want to buy are one of the rarest things on this earth. We all know that. But do you know that these diamonds actually go through a lot of cleaning and monitoring processes before they are brought in stores and ultimately to you?

Talking about these certifications, well there are a few kinds of certifications which ensure the purity and value of the diamond. Some of these certifications are IGI Certified diamonds and GCAL certified diamonds.

Now within these certifications, IGI says that their clarity is better than GIA or GCAL and GIA says the vice versa.

Before we root for somebody, let us give you some context of why jewellers actually choose IGI certified diamonds rather than GIA or GCAL Certified ones.

Well actually, jewellers get their stones graded by IGI for a reason. And the reason is that GCAL gives more detailed about the clarity and the color of the diamond by ensuring all the cuts are a total perfection or not. In comparison to this, IGI seems kind of forgiving with the cut grading part. Know the difference between GCAL vs IGI certification.

Difference between IGI Certified Diamonds and GCAL Certified Diamonds:
GCAL Certified diamonds:
The GCAL (Gem Certification and Assurance Lab) diamonds is a research laboratory which is specialized in guaranteed diamond grading.
It makes sure to employ the top experts of the diamond grading industry and is equipped with state of art technologies and instrumentation. These technologies include DTC DiamondView, DiamondSure, and even FTIR Infrared Spectrophotometer.
It is such a company which has a 'Zero Tolerance' Consumer Grading Guarantee and also provides cash-back for any kind of error in identification of the certified diamonds.

IGI Certified Diamonds:
The IGI (International Gemological Institute) Institute is located in Antwerp, Belgium. This institute is actually the second most world known lab in the world which you can find.
It has a reputation among the common jewellers because of being a bit forgiving on certain sections of the diamond. And that is probably why a larger amount of polished diamonds which we find in the market are actually graded by IGI, making them popular in Asian Countries.

Both of these certification institutes claim to be more proper in terms of clarity and color, yet it is already known that IGI certified diamonds are a little lenient on grading all the features of the diamonds.

However, if you are looking for diamonds with proper certification from institutes and really good quality, you might want to refer to LGD Trade.

Talking about LGD (Lab-Grown Diamond) Trade, New York, it is a well-reputed name in the diamond industry for connecting people and merchants on a single platform and providing the best quality and certified diamonds. It also allows the merchants to list their diamonds to sell to retailers and wholesale buyers.