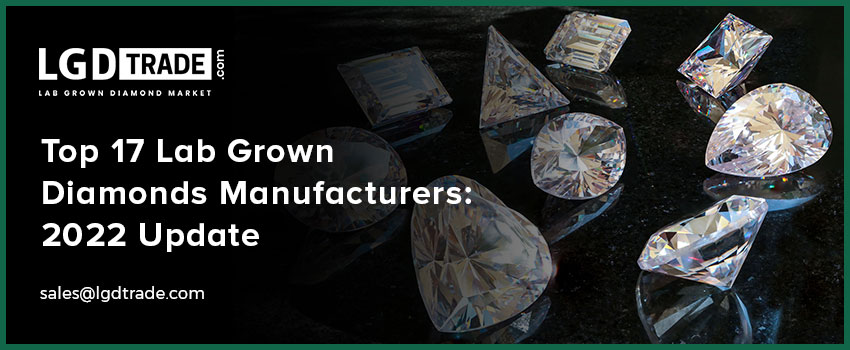 Top 17 Lab Grown Diamonds Manufacturers: 2022 Update
There is something about diamonds that makes them irresistible. That appeal has raised their demand but the process of getting diamonds from the crust of the earth has proved to be a huge challenge and raised various ethical questions. Technology has been quick to address that problem with lab-created diamonds. A process similar to cloning the precious stones is being carried out by several jewel makers around the world.
The lab grown diamond manufacturers you will find on this list are big names that should be on the radar of everyone who loves diamonds. Whether you want to buy a single stone or invest in the diamond trade, these are the manufacturers you need to know about. 
What are Lab Grown Diamonds?
Many people may misunderstand the name to mean that lab created diamonds are fakes. On the contrary, these diamonds have the exact properties of natural diamonds. Just like a clone of a living thing would have the same DNA as the original, LGD- as they are also known, are the result of putting fragments of diamonds through the same process that natural diamonds undergo. Natural diamonds are exposed to heat and pressure over hundreds of years. Those in the lab however have this process accelerated and controlled so that they can be formed much faster.
LGD therefore, look just like the natural diamonds but save the manufacturer and the buyer the guilt of knowing that the precious stone they possess may have been mined at the cost of local's blood, the environment and may have burned a big hole in their pocket.
Lab Grown Diamond Manufacturers
The past five years have seen a substantial increase in the number of lab grown diamond manufacturers. Naturally, this means that the market share of these gemstones made in a lab is also steadily increasing. By 2019, China claimed the record for the largest producer of lab created diamonds. This accounted for over 50% of the production share. India was the next big producer but the market share was just 15% and it was rivaled by the United States which had a 13% share in the market.
There has been a great advancement in the manufacture of these diamonds and even though the Chinese still have the largest number of manufacturers, India has made many gains when it comes to setting up labs to create diamonds.
By 2030, it is projected that LGD will have made substantial progress in the market with a share of as much as 10 to 15 percent. Leading the drive to achieve that are these top lab grown diamond makers from across the world.
Top 17 Lab Grown Diamond Manufacturers
Ningbo Crysdiam: When you talk about lab grown diamonds in China, you should find space to mention Ningbo Crysdiam. The company has risen to establish itself as the top producer of large-size LGD not just in China, but the world. Founded in 2013 as a partnership between scientists and entrepreneurs, the Zhejiang-based lab has been perfecting its art of making diamonds. Many jewel retailers depend on the manufacturer to constantly provide them with some of the best diamonds the world has ever seen. With competition among lab grown diamond companies to come up with the clearest diamonds, this manufacturer shows that they are a force to reckon with. They are also known for making amazing colored diamonds.
Vibranium Lab: When we think of diamonds, it is hard not to imagine luxury. That seems to be what Vibranium Lab aims to exude. They make exquisite diamonds for the luxury market and they know how to give their customers a great shopping experience. They are also on this list because they have the capacity to create hundreds of diamonds every day which is something many lab grown diamond companies struggle to achieve. Amazingly too, this manufacturer is not in China, India, or the USA. This is a UK-based jewel maker.
Limelight: This is one of India's top lab grown diamonds manufacturers. They boast about producing 1.2 million carats of diamonds every year. This is a huge production line that serves the demand for LGD worldwide. The Mumbai manufacturer has outlets in different parts of the country with a variety of jewelry available to a wide section of buyers. They have also been known to supply royals as well as the rich and famous in India and around the world. If sustainability was the one hallmark of the top lab grown diamond companies, Limelight would be at the top of the list.
Blue Nile: It is not just about getting the manufacturing right, you also need to get distribution right. Blue Nile certainly has both covered. This is a manufacturer with one of the most convenient online shopping experiences. Buyers can choose from a wide range of LGD products which include rings and necklaces designed by the finest jewelry artists. They also provide free shipping which endears them to many buyers and separates them from many manufacturers.
Swarovski: They are a known name in the natural diamond industry and are steadily replicating that in the lab created diamond industry. Though they may have joined the industry later than some of their competitors, Swarovski already had a large network of retailers and wholesalers who they could count on to get their lab brand out there. Right now Swarovski LGD are available to millions of people in Europe, America, and Asia among other locations where they have outlets. They are a luxury brand that has not let its quality slip.
Ritani: This New York-based manufacturer is one of the oldest hands in this business. They were making diamonds as far back as the 90s. It is hard to ignore their 80,000 collections of lab created diamonds. With the experience they have amassed in the tread, they are able to manufacture quality diamonds which many other budding companies are still struggling to do.
Zhengzhou Sino-Crystal Diamond: They are a major manufacturer in China and they do not just focus on jewelry. Zhengzhou Sino-Crystal Diamond is a maker of lab diamonds that are used in the aerospace industry. They also provide equipment to other lab grown diamond companies.
ZhongNan Diamond Co Ltd: It is also a big-name manufacturer in China with the capacity to produce thousands of diamonds for the market. They are best known for their synthetic diamonds but also make various types of LGD for retail jewelers.
Steven Stone: They have been in operation for 80 years and through that time they have made a name for themselves in the diamond industry. With the growing shift in preference for lab grown diamonds, the company has also introduced a range of these stones made in their lab. Most buyers get them online where there is a mix of lab grown and natural diamonds.
Clean Origin: The name can be trusted. Clean origin does value ethical practices and respects the environment. It is one of the very few places where you can find clean diamonds. The niche is jewelry and so many happy customers keep going back to purchase more. They have fully embraced online sales with their 360 degrees imaging of the gems so that it is easier to make a decision even when you are miles away.
Syndiora: Quality and nature-friendly products are what they stand for. Each piece of jewelry made by Syndiora is checked to see that it meets internationally accepted quality standards. The manufacture of these diamonds was started because the founder loves beauty but did not wish to deplete the earth's resources to achieve beauty.
De beers: World-renowned diamond miner De beers set up a lab grown diamond arm of the company. Lightbox is riding on the fame of its parent company and has seen great success. They went from selling finished jewelry to providing uncut lab grown diamonds for their customers to customize the stones to their preference. They have outlets for their precious stones around the world and America is the biggest consumer of their LGD.
James Allen: They are a strong competitor in the diamond industry. Their main focus is on fashion diamonds. James Allen has been associated with providing diamonds to royalty, celebrities, and lovers looking to "pop the question." With research indicating that millennials prefer lab grown diamonds, they have listened to the call and manufactured LGD.
Queensmith: It started in 2016 and has risen in leaps and bounds to make a name for itself among the top jewelers in the UK. One amazing thing about Queensmith is that they even offer their clients to witness the process of diamonds being grown and designed in their lab. They were twice voted as UK Bridal Jeweler.
Novita Diamonds: With showrooms in Australia, Germany, Uk, New Zealand, and Singapore, they are worthy of a place among the top lab grown diamond companies. This big manufacturer is known for its range of engagement rings that are fairly priced. The 30-day return policy also makes them a favorite among many online buyers. Novita also makes diamonds that can be sold uncut to jewelers who prefer to design their own pieces.
VRAI: When it comes to transparency, not many manufacturers can compare to VRAI. They are at the top of many Americans' list of best LGD manufacturers. Engagement rings are their specialty. They are known for offering a wide range of engagement rings in different shapes, sizes, and colors. Anyone can find what they want in their showrooms.
WD: Lab grown diamonds are made using a patented technology. WD has a unique brand of diamonds that are loved by both their wholesale buyers along with individuals. The US company has been involved in improving the CVD process of making these diamonds and has received certification from several bodies that certify diamonds.
Top Lab Grown Diamond Manufacturers in India
India is quickly moving out of the shadow of China when it comes to the manufacture of lab grown diamonds. Increased demand for these man-made gemstones has seen exports increase. This has pushed more investors to sink money into the industry. Surat is the powerhouse for LGD manufacturing with many of the top lab grown diamond manufacturers situated there.
The top names in the industry include the following:
Bhanderi Lab Grown: This is a manufacturer that started locally but has expanded beyond India. Bhanderi LGD are available in Dubai, New York, and Belgium. They boast a variety of sizes and designs of the stones. The manufacturing plants are also situated in those cities for easier delivery to the markets there.
Greedlab Diamond:There seems to be no challenge too great for this manufacturer. With 50 years experience in the diamond industry, they now champion environmentally friendly diamonds. One huge achievement was growing the world's biggest green diamond which took the title away from China. At present they are trying to peak production at 35,000 carats a month.
Finger Grown Diamonds: They export LGD to over 40 countries around the world. They are considered a trusted source of conflict-free diamonds. Wholesalers, retailers, and jewelers continue to enjoy the quality of jewels provided by Finger Grown Diamonds.
India continues to state claim to its place in the diamond manufacturing industry. Every year, new companies emerge and boost its credentials. This list is likely to get much longer with time.
CONCLUSION
In the next article, we will talk about Top Lab Grown Diamond Machine suppliers. Many manufacturers may not have the resources to invest in designing machines, so they depend on the companies that we will consider in the next article. There is a lot that goes into making the perfect machine that will deliver consistent quality. Knowing which companies are doing that can be helpful to an investor in this sector. You should also know, that these lists are never static, keep on checking for updates to know if there's a new manufacturer that you should have on your radar.