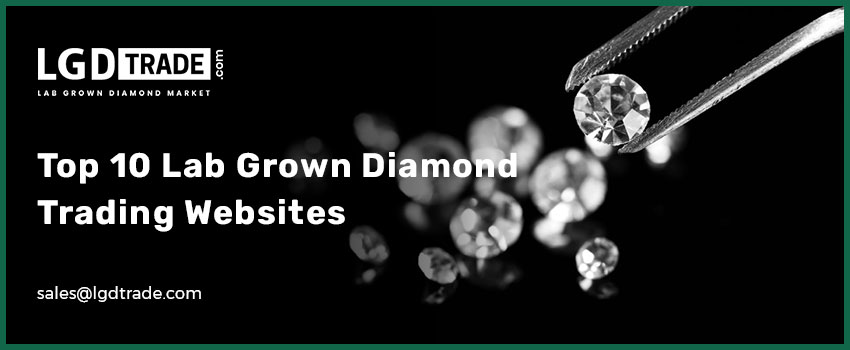 Buying lab grown diamonds requires extensive research. It is a huge investment you are making so you want to get it right. This top 10 lab grown diamond trading website article will lessen the amount of work you need to do during your research.
Trading websites make it much easier to find what you want. Some of the best ones listed here take the time to verify the traders and others even facilitate easy and safe transactions. There is more peace of mind when you buy LGD from a dedicated website. Of course, not all platforms are created equally, some have better customer care than others, the top ones have more variety and you will realize some are safer than the rest.
Following intensive research, we have come up with a list of the websites you can be sure to find what you are looking for while seated comfortably wherever you are. In our opinion and that of customers who trade on these sites, these are the top 10 in descending order.

LGD Trade
This is a melting pot for buyers and sellers from all over the world. The platform is a beehive of activity and yet it is the opposite of chaos. LGD Trade is a well-organized website and everyone can find exactly what they want. From the time you visit the site, you know which way to go either as a buyer or a seller. There is also the option to just browse and see what goes on before you decide what you want to do and with who. Let us consider a few factors that make it the best trading platform.
Trust: You are dealing with precious stones of great value. You are also dealing with money. It is very important that you can trust a website and the people on it. The website has made it a point to ensure every trader is verified before they can trade on the site. The platform also encourages transparency so that both the buyer and seller understand what they are getting into and they know what to expect without any hidden costs or snares.
Safety: Related to trust is safety. Buyers and sellers on LG Trade are sure that their personal information is safe. Transactions carried out on the platform are transparent but payment details are safely encrypted to avoid dangers like man-in-the-middle attacks. So far, we have not had any reports of a breach of data security on this website.
Variety: Whether you would like to buy lab-grown diamonds or sell them, you want to know that you have access to variety. Best prices are always set when the numbers add up. Despite the strict verification of users of the platform, there are still very many sellers and buyers. This makes the website a one-stop marketplace that meets the needs of very many people. Buyers are treated to a variety of lab grown diamonds of different shapes, sizes, and colors. They could be cut, uncut, or ready jewelry. You can find any kind of created diamonds on this site.
Ease of use: You don't have to be a computer expert to find your way around the site. With a few clicks, you will be anywhere you want to be on the site. The user experience is excellent. You also have access to customer support in case you need physical help from a real human. Alternatively, you can chat and get questions you need answered quickly.
Mobile Friendly: You do not need to be at your PC to trade on LGD trade. Simply download the app for android or IOS. This gives more efficiency and flexibility.
Pricing: The pricing to use the platform is fair. Customers are also comfortable with the transparency in pricing which is stated from the word go. They have a monthly charge which guarantees the user easy access to buyers or sellers depending on the account you sign up for.
Alibaba
If you want a website with a wide selection of wholesale lab-grown diamonds, this would be a great option. Alibaba makes use of a wide network of dealers and buyers. The site gets millions of visitors searching for different items including LGD. They also have a wide network of delivery channels around the world.
Amazon
Many of the top jewelers around the world have a presence on Amazon. Buyers too like amazon because it has many genuine reviews about different sellers and buyers. It is much easier to get a good picture of a product and the seller from the reviews. There is a great dispute-handling system that gives users of the platform a degree of reassurance that they will not be cheated.
Virtual Diamond Boutique
When it comes to user experience, this site has one of the top performances in that field. It is as if you are right there in a jewelry store. The view of different lab grown diamonds is impressive. Sellers get to showcase their merchandise with ease and the buyers can see clearly what they are buying.
The Diamond Port
You will find a mix of lab grown diamonds and natural diamonds on his site. However, it is easy to single out LGD in your search. This is proving to be one of the top B2B marketplaces for diamond trade.
Green World Diamonds
This site is dedicated to Swiss-made diamonds. Here, you can get lab grown diamonds at 70% less than what you may get on other sites. These diamonds are made by just one laboratory. The reason they are on this list is because of the affordability of the diamonds.
LGDeal
This is a platform that uses technology to make finding buyers or sellers much easier. The founders of the website were burning to have a simplified process of trading lab grown diamonds. They seem to have gotten this right and have many businesses and individuals using the platform to trade LGD.
CRBN
Here, is where everyone interested in different areas of lab-grown diamond trade comes to get what they want. Jewelers, merchants, wholesale buyers, and traders as well as individuals can register on the platform and begin trading. It is amazingly easy and safe.
Labtika
This is one of the best platforms for B2B lab diamond trade. It is very easy to identify a dealer and complete your transaction within the shortest time. There is a big selection of diamonds and Labtika ensures transparency.
JTrade
Certification is very important when it comes to trading diamonds o JTrade. They have a collection of suppliers and buyers but all the lab-grown diamonds have information about their carat, cut, color, and clarity. Here you pay for diamonds that you know all that is important about them.

Summary
Transparency and safety play a big part in determining the top10 lab grown diamond trading websites. We took that into consideration when putting together this list. However, we also know it is important that the website is easy to use, many people are using it and that care is taken to have a reasonable price for the users. When all that is considered, LG Trade is at the top of the list.