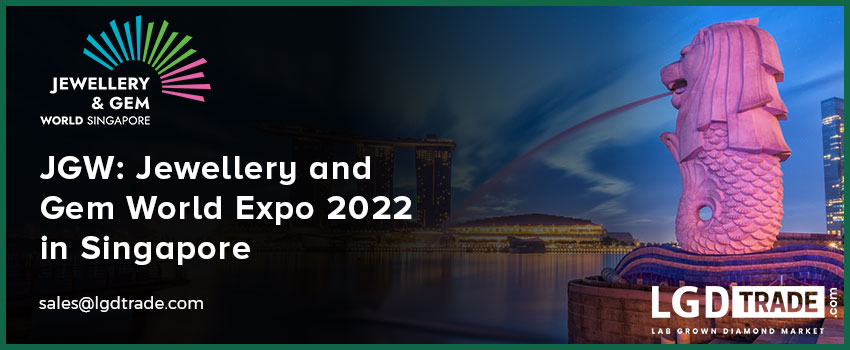 JGW: Jewelry and Gem World Expo 2022 in Singapore

"Instant Asia" welcomes one of the most prestigious annual events, the Jewelry and Gem World Expo. This September, Singapore plays host to thousands of jewel lovers who can soak up the multi-Asian culture of Singapore as they network and shop.

The organizers of the Hong Kong show announced the switch from Hong Kong to Singapore as a one-time event but noted that it will also give showgoers the opportunity to enjoy what Singapore has to offer.
This is the best place to find the widest assortment of precious stones from various sources. Diamonds, colored gems, as well as ornaments made from different precious metals, will make up some of the inventory on display at the expo.

Attractions at the JGW Singapore
Not to take away from the glitz of the jewelry expo, Singapore in itself is an attraction. For years now guests at the expo have been going to Hong Kong and regular visitors probably already have favorite eating spots, and hotels and may be on a first-name basis with bartenders. Well, this is a chance for a new experience. Singapore is known as Instant Asia because it is a melting pot for different cultures from across Asia. If you want one place where you can have a truly Asian experience, then Singapore is it. It is also known as "the shopper's paradise and its clean streets are a joy for many visitors.
But now let's focus on the expo.

Finished Jewelry:
This is the best opportunity for anyone looking for finished jewelry. Be it a love-stuck puppy hoping to pop the question, or someone just looking for a great gift with diamonds and pearls, they will find it here. These pieces include fine artworks from top jewelers, as well as used pieces from some of the rich and famous or even individuals that chose to sell off family jewels. It will be one place where you can find any kind of finished jewelry.

LGD:
In recent years, lab-grown diamonds have gained fame and many big-name diamond companies are showcasing lab-grown diamonds at events like this. You will be able to see both uncut lab-grown diamonds in different colors and sizes as well as finished diamond jewelry. The great part is they are environmentally friendly and cost a fraction of mined diamonds.

Seminars:
For the visitor looking for investment opportunities in the jewelry and gem industry, this is an opportunity to learn from big-name players. Seminars will focus on topics like growing your business, innovative ideas to attract more clients, design, and fashion among others. Be sure to pick up the schedule for different seminars and mark the time and date for the ones you wish to attend.

Masterpieces:
You can expect to see works of some of the cream of jewelry artistry. Investors, collectors, and royalty find these pieces highly attractive. But even for the ordinary expo guest, the work of art exhibited at the premier pavilion will certainly be a big attraction. Many of the items displayed here will appreciate. It is expected that competition will be stiff among gemstone investors to purchase these collections.

Technology and Packaging:
Let's not forget the role technology plays in this industry. A special area has been allocated for exhibitors showcasing high-tech tools used in mining, designing as well as packaging the jewels and gemstones.

Exhibitors
This is Asia's biggest jewelry expo and it will attract exhibitors from over 30 countries. The organizers confirm that more than 1000 exhibitors have already booked space at the Singapore Expo venue.
Exhibitors will not just come from Asia, you can expect to see big-name international brands like De beers showcasing their fine pieces. Other recognized names that are expected to exhibit include:

House of Gems: They are renowned for their large network of suppliers. House of Gems has an array of gems that they offer at wholesale prices. For the shopper, they are a must-visit exhibitor. There is most likely to be something you want and it will be at a discount.

Jewelcraft: They are famed for their touch of uniqueness in the jewels that they craft. It is always exciting to see what new designs they have come up with. They are expected to exhibit a variety of uniquely crafted diamond, silver, gold, and other precious stone pieces.

Blue Gems: If you think of blue sapphires, this is the company you should think about. Located in Bangkok, Blue Gems will be showcasing both their showroom pieces and wholesale gems. It is a great opportunity to buy colored gems at a good price.

These are just a few of the exhibitors. There will be both big and small exhibitors at the event.

Dates and Venue for the JGW 2022 Singapore Expo
The B2B sourcing event will begin on the 27th of September and go on till the 30th of September. The event will be hosted at the Singapore Expo Convention and Exhibition Center. The venue can host thousands of stalls and exhibition guests. Thanks to the relaxed rules in Singapore, everyone at the venue will be able to interact freely without restrictions on close contact.

This venue is located in the heart of Singapore with several hotels and other hospitality amenities. Transport to the venue is efficient and for many guests, their hotels will be within walking distance from the venue.

From the 27th through to the 29th, the expo will open at 10:00 am and will close at 6:00 pm. On the 30th, the closing day, the venue will open at 10 am and will close at 5:00 pm.

NB
Singapore has strict rules prohibiting chewing gum. You will be informed about this on arrival at the airport and do not dare break that rule or any other while in Singapore.