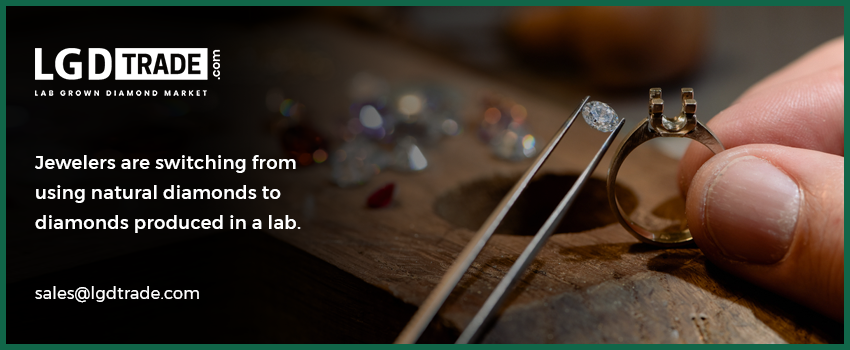 The world's largest jewelry producer by volume—Pandora, one of the first significant jewelers to do so, aims to cease its usage of mined diamonds entirely.
The Copenhagen jeweler known for its charm bracelets has introduced a new line of diamonds produced in a lab to cut ties with the diamond mining industry.
Before its global premiere in 2022, the new lab-grown diamond collection will be available in the UK. 
The difference between lab-grown and mine-grown diamonds is so tiny that they cannot be seen with the naked eye. Human rights violations in mines and industries aren't a problem either.
Jewelers are beginning to recognize the benefit of not mining the jewel as costs for lab-grown diamonds come down, and sustainability-conscious millennials buy more engagement rings.
When it comes to lab-created diamonds, Pandora CEO Alexander Lacik says they're not only beautiful, but they're a sign of progress in Pandora's long-term sustainability goals.
By midday in Copenhagen, shares of the Danish business were up 5.6 percent, up as much as 7 percent.
Millennials drive demand
Except for a few recent entrants like Austrian crystal jeweler Swarovski, very few jewelers utilize lab-grown diamonds. Despite this, consumer preferences are shifting dramatically.
According to Morgan Stanley research, millennials, who are primed to buy engagement rings, are driving up sales of lab-grown diamonds.
Even without taking into account the environmental and ethical implications, the lab-based option is less expensive.
For example, according to AWDC and Bain & Co. research, the diamond sector has seen a 20% reduction in worldwide sales because of quarantines, travel restrictions, and economic uncertainty due to the current epidemic.
A greater quantity of lab-grown diamonds is also available. Mined diamond output decreased to 111 million carats in 2020, down from 152 million in 2017, whereas lab-produced diamond production rose to 6 million to 7 million.
Already an upward tendency has been bolstered by the outbreak. In the last five years, lab-grown diamond production costs have decreased substantially, according to Morgan Stanley. Even diamond merchants are baffled by the improvements in quality, which they can't tell the difference between.
The price of lab-produced diamonds was half that of mined diamonds in February 2020, before the epidemic expanded rapidly.
Few companies have predicted that a diamond created in a lab will cost a third of what a natural diamond will.
PANDORA and many other jewelers are going forward with the use of lab-grown diamonds for the following reasons:
Lab-grown vs. mining
Blood Diamond and Kanye West's "Diamonds From Sierra Leone" have striking visuals, yet both have advantages and disadvantages.
Natural Diamonds created in a lab are said to be greener than those extracted from the earth. The manufacturing process, on the other hand, is highly energy-intensive. The process of creating diamonds in a lab uses a lot of fossil fuels and "high-pressure, high-temperature technology," which releases a lot of carbon dioxide. Natural Diamonds will now be produced using 100 percent renewable energy at Pandora, increasing the previous goal of 60 percent. 
The mining of gems also has socioeconomic advantages: In particular, the seven largest diamond firms employ approximately 77,000 skilled people in emerging countries. According to Morgan Stanley, mining diamonds has a knock-on impact on local economies since the occupations pay 65 percent more than the average salary in these nations.
Sustainability trend
It's predicted that important additional markets will unveil their new collections in 2022, and all of these collections will contain one thing in common: an 80 percent lab-produced diamond. In the UK, lab-grown diamonds for Pandora are created in the same way as mined diamonds. These diamonds are likewise rated using the same industry-standard 4Cs grading system based on color, clarity, cut, and weight.
The decision by many other companies to introduce a line of lab-grown diamonds shows their commitment to evolving customer needs, which have seen sustainability and ethics rise to the fore in recent years. The jewelry industry is no different when it comes to embracing sustainability in 2021.
The collection's lab-created diamonds were produced with an average of 60 percent renewable energy, and the CarbonNeutral certification offsets GHG emissions from non-renewable energy. The diamonds will be produced using 100 percent sustainable energy when Pandora offers the line internationally next year.
Human rights violations are also a significant concern in the natural diamond sector, which has prompted consumers to call for greater openness in the supply chains. Concerns over mining's impact on the environment and working conditions have led to an increase in the market for diamond substitutes. Pandora is now ready to seize this opportunity.
More players may follow suit.
Large corporations moving forward and changing, a global player entering the lab-grown diamond category might begin the market transformation and inspire others to follow suit. In recent years, considerable investments have been made in the category, a promising indication for the future of lab-grown goods. This segment has already achieved tremendous progress.  Seeing a significant increase in demand in 2020, diamond markets stated in April 2021 that they would significantly expand their lab-grown product. Only 6% of the company's revenues were lab-grown diamonds in August 2020, but that percentage has already risen to 26% in only a few months.
To read and know more about LGD, click here.