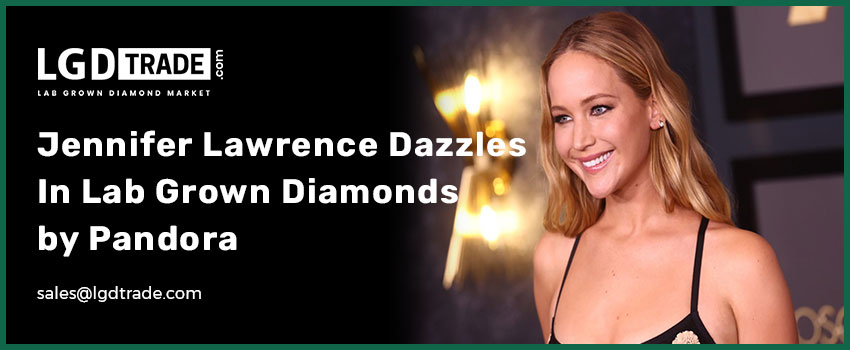 Jennifer Lawrence Dazzles In Lab Grown Diamonds by Pandora

It was a night of dazzlement as Oscar-winning actor Jennifer Lawrence stepped out in Lab-grown diamond earrings by Pandora. Stepping onto the red carpet at the 13th Academy of Motion Picture Arts and Science awards in Los Angeles, Jennifer Lawrence looked stunning in the 1.00Ct stud earrings.
The earrings are part of the Pandora, Brilliance collection launched in the UK in 2021. Pandora has committed to promoting jewelry made with renewable energy and minimal emissions. In fact, growing the diamonds, cutting, and then creating the jewelry pieces have a carbon footprint lower than a pair of jeans.
Seeing the stunning actress wear Pandora lab-grown diamond earrings was dazzling and inspiring. It was a testament that it is possible to shine bright like a diamond without destroying the earth or the lives of people on earth.
Pandora made a bold statement in 2021 when it announced it would no longer be using mined diamonds to make its jewelry. If at first, it seemed like a crazy idea, the world can now see it is not. Celebrities, trendsetters, and just about any other person seems to be embracing these ethical diamonds.
Pandora CEO Alexander Lacik says both natural and lab grown diamonds can coexist. "There is market for both of them and demand will increase." Lasik said in an interview.
It also helps that lab grown diamonds do not just look the same as natural ones, they are made from the same material. A jewelry lover like actor Jennifer can still look as dazzling as she did at the awards in Lab grown diamonds.

Recycled Precious Metals
Pandora is not just stopping at making diamonds in the lab, they have also embraced recycled precious metals. Their show-piece lab-grown diamond ring is a 1ct ring held together by 100 percent recycled gold and silver. This is not only good for the environment. Lasik points out that it also makes diamond jewelry affordable for more people. This however does not take away from the spectacular appeal that is associated with diamonds.

Changing Preference
Market research indicates that the majority of millennials are in support of lab grown diamonds. The price and designs are among the top reasons given for this shift in preference. Lab-grown diamonds can be easily customized which creates a new kind of sentiment attached to jewelry.
This new preference is also a result of increased concern about the environment. Many of the younger generation would like to play their part to conserve the environment. Lab-grown jewelry is one of the ways they can do that and with the pieces being worn to red-carpet events, more awareness of their availability is spread and demand grows.

Jewelers like Pandora are setting the stage for a trend in sustainable fashion. They continue to use celebrities as their ambassadors. With the lower price that lab grown diamonds sell for, even the ordinary person can dream of owning the same stud earrings Jennifer Lawrence dazzled in at the awards.