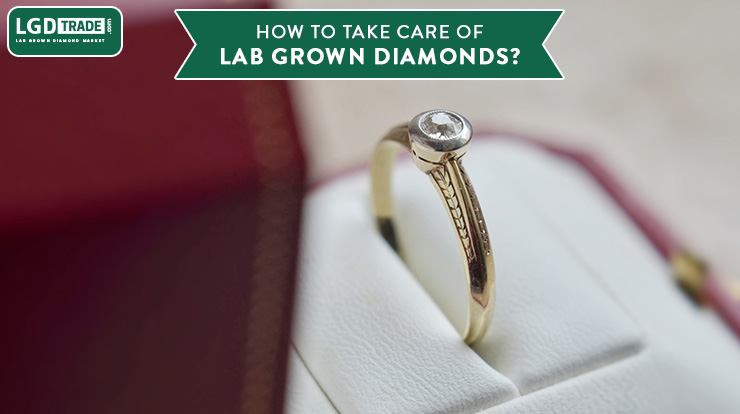 Jewelry needs care and cleaning to keep its brightness and spark intact. The lab-grown diamonds also need your care and time to time cleaning so you can keep it looks brand new all the time. In this article, you will learn about the top tips for lab-grown diamond care.
If you like applying any kind of spray or lotion on your body, then apply them before you wear your lab-made diamonds. This will make sure those lotions don't get applied to your man-made diamonds and take off its shine. When you remove the jewelry, wipe it off with a clean towel or with wipers to remove dust, oil and any other impurities from it. Wrap it in the soft cloth and put it back in the box.
Don't wear them during activities like jogging, exercise, cleaning, swimming, etc.
Never put lab made diamond jewelry and other metal jewelry in the same box.
As you know the basic tips for lab grown diamond care, now time to learn about how to clean lab created diamonds so that you don't hurt its beauty:
How to Clean Lab Grown Diamonds?
Mix 4 cups of warm water with 1 spoonful of regular detergent or dishwasher and mix it well. Dip your laboratory-made diamonds in it and rub it gently with a cloth or your fingers for a minute or two. Then pat it with the clean and dry cloth. Make sure the soap is completely removed. You can also use clean water and then dry technique to assure no soap is left. Let it sit in the air and light to get completely dry and then put it back.
The lab-grown diamonds can also be cleaned with the special polishing cloth, generally, used to clean glass items. It lets you clean the diamond with gentle rubbing without leaving any marks on it.
Take white vinegar and dip your lab-grown diamond jewelry in it. Make sure to take enough vinegar so you can dip the man-made diamond jewelry completely in it. Let the lab-grown diamond jewelry piece sit in there for about 15 minutes. Then, remove it from the solution and rub it with a brush with soft bristles. Be gentle. The final step is to rinse it well and then dry it with a clean cloth.
Steam cleaning is popular for cleaning the lab-created diamond thoroughly, but it needs additional precautions and care. Boil the water and let it cool down a little. The steam shouldn't be too hot as it can harm the diamonds. Then, keep the diamonds in a way that it can take steam, but be extra careful. In fact, it is better to take the help of professionals than burning your hands. This is the best way as it cleans even those areas which are difficult to reach with a brush or cloth.
Now, you have the answer of how to clean lab created diamonds so you must take advantage of it to keep its beauty as it is!
Read Next: