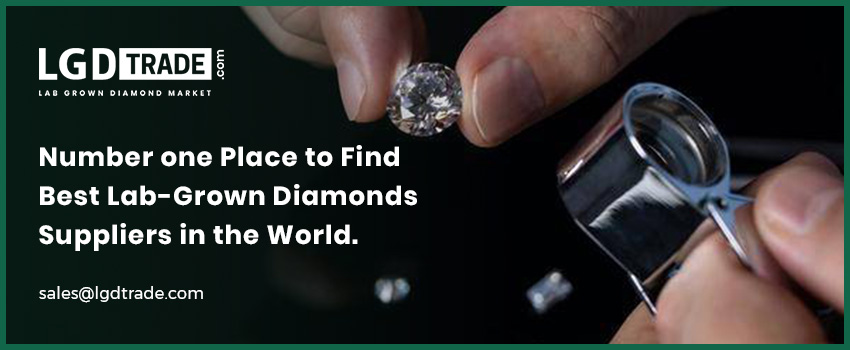 The natural diamond creation process can be duplicated within controlled environments to perfection. Lab-grown diamonds (LGD) are the products of that process. Today, trading in LGD is a preferred option for so many investors but many also wonder where the number one place to find best lab-grown diamond suppliers is. 
Now, you are in the right hands to give you an answer, or rather answers. While searching for the best platform, you will often come across the name LGD Trade. This is indeed the best place you can buy lab-grown diamonds online. Let's tell you all about it.

What is LGD Trade?
This is an online platform where all the top suppliers of lab-grown diamonds and the buyers converge to trade. The intelligent platform offers a safe environment for buyers and sellers to transact business. LGD, which are also referred to as synthetic diamonds, can be found in their various grades and colors.
This site gives the widest selection of synthetic diamonds in the world. Anyone can join the platform and either buy or sell these products.
The platform makes a promise to its users of a secure environment with the best options to choose from. It is created in such a way that it is easy to find whatever you are looking for. The site is dedicated to lab-grown diamonds but ensures that the entire available selections of LGD can be found here.

Why is it the Best Platform to Find LGD Suppliers?
LGD Trade's claim to be the number one place to find the best lab-grown diamond supplier can be proved. It's not just a claim, it is reality. Think of what you would expect of the best place to carry out such transactions. Your expectations would certainly include all or some of the following reasons this is regarded as the best.

Widest variety: This site has the widest variety of man-made diamonds. It attracts merchants from everywhere in the world. This means that you will not fail to find the kind of LGD you want. Merchants also will be happy to know that the site attracts different kinds of buyers with a variety of interests. You stand a higher chance of finding buyers on this platform than anywhere else.

Simplified connection of buyers and sellers: Unlike some other platforms that can prove too complicated for users, this one is simple to use even for someone with limited experience trading on such platforms. The signup process is straightforward and does not take a long time. You will also find that the requirements are nothing unnecessary. Only vital information to ensure safety and simplicity is required. After signing up, you simply need to specify what you are looking for. Buyers will be easily shown the merchants who deal in the kind of lab-grown diamonds they are interested in. sellers are notified if they have a prospect interested in their products.

Intelligent platform: This platform is carefully and intelligently developed to ensure a smooth flow of commerce. The aspect of human error is eliminated through intelligent management of the site. Linking and communication between buyers and sellers is swift and transactions are concluded quickly.

Good prices: You are assured of getting the best prices on LGD Trade. This is majorly because it attracts several buyers and sellers. Both demand and supply are evened out so both the buyer and seller will be sure to get a fair deal. It is much easier for a buyer to compare different merchant prices before they zero in on one supplier. At the same time, merchants can see what other merchants are charging and adjust their prices accordingly. You will be happy at the end of a transaction.

Verified buyers and sellers: One of the biggest problems buyers and sellers face on other platforms is the lack of transparency and guarantee that the products they are purchasing are genuine. LGD Trade solves that problem by verifying everyone who joins the platform. Payments are secured to ensure a buyer only pays for what they have received and are happy with. Transactions are also encrypted to avoid any theft of critical data by man-in-the-middle attacks and other online scams.

Free trial: You do not have to commit to this platform unless you are convinced it is the best. A free trial is the best way to do that. Try the site and when you verify how excellent it is, go ahead and join.

How to Join LGD Trade
As mentioned earlier, LGD Trade is a platform that simplifies the trade in lab-grown diamonds. Becoming a member is equally simplified. Before you join, you have a chance to try out the platform. This enables you to learn the ins and outs of the website. When the trial period elapses, you can then go ahead to sign up for annual membership which is unbelievably priced at $1. There are other options with more benefits that you can choose from and upgrade to. Right now, all you have to do is hit sign up and you will be on your way to joining LGD Trade.

Summary
There are several platforms that will offer you an opportunity to trade in LGD. There is only one that is the best to find lab-grown diamond suppliers in the world. LGD Trade is that place and you should join it now.