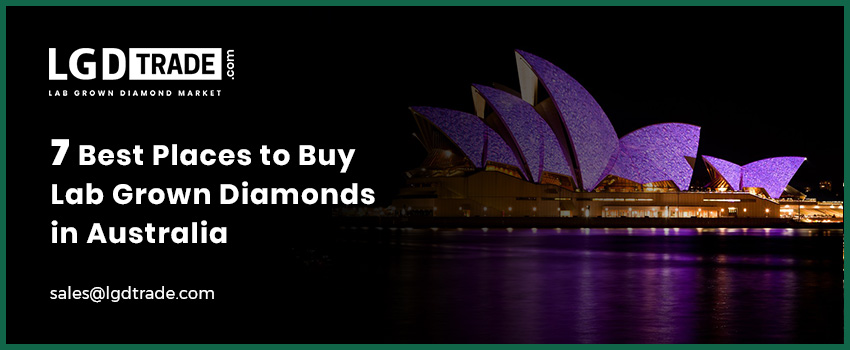 You can purchase diamonds with the peace of mind that no child was forced to work in the mines, the environment wasn't negatively affected and the damage to your pocket will not be great. That is the joy of buying lab-grown diamonds. The same process that natural diamonds undergo, is accelerated in a lab and within a month you have diamonds that can hardly be differentiated from the natural ones.
So are you drawn to these wonder jewels? Would you like to find the best places to buy lab grown diamonds in Australia? Here are the 7 best places to choose from.

EverettBrookes
If you have a guide to help you identify the best sellers of man-made diamonds, then you will find that EverettBrookes ticks all the boxes for the best place to buy them. They have the widest selection of man-made diamonds. You probably would be spoiled for choice. The product is also quality. Many buyers have been impressed by their purchases. But it is even more than just their product. They go an extra mile to ensure buying LGD is a great experience. Also, they have something to fit different budgets. You are more likely to find exactly what you want here than anywhere else.

Moi Moi
First of all, Moi is not a French word. It is Cantonese and it means little sister. This jewellery business was set up by 2 sisters with a passion for jewellery and the finer things in life. They share that passion with their clients. In-stock are both natural and man-made diamonds but the lab grown diamonds seem to attract more attention than the natural ones. They have a pretty impressive inventory and the customer service is worth writing home about.

Annys
Sometimes you may worry about how you will get your lab grown diamonds if you are not near the jewellery store. Annys makes quick work of that concern. When it comes to delivery, they do an excellent job. You can get your product delivered right to your doorstep and you do not have to worry about it getting lost along the way. They have extensive coverage around Australia. However, if you are in Melbourne, you could go directly to the store and choose what you want. The selection is wide and the staff are always willing to give you as much information as you may need to make a decision.

Samuel and Stone
If your reason for choosing lab grown diamonds is your concern for the environment, then Samuel and stone will be the best place for you to buy lab grown diamonds in Australia. They take every measure to ensure they do not harm the environment as they carry out their business. These are the most environmentally friendly jewellers in Australia. They also make it a goal to support local jewellers by sourcing the diamonds from Australian-based manufacturers. Their inventory is quite impressive especially since the diamonds are only sourced from Australian manufacturers and suppliers. The price is also good.

Novita Diamonds
This is one of the big names in the lab grown diamonds industry. They have a network not just in Australia, but around the world. You would have access to several designs of diamonds. They have a track record of producing some of the best engagement rings made from man-made diamonds. With Novitra Diamonds, you can be sure of genuine quality all the time.

Leil
This is the personification of luxury jewellery. The brand prides itself in taking the lead in providing the next generation of jewellery. They take time to produce the finest designs and have the customer's desires at heart. There is definitely something for anyone looking for lab grown diamonds. This is an Australian-based company that hopes to make its mark internationally.

Eco Lab Diamonds
They are expert crafters of jewellery. Their lab-made diamonds are custom-made so you can be satisfied with your purchase. Eco lab also takes into account different budgets so you are certain to find the lab grown diamonds you want without breaking the bank.

Conclusion
You may have different criteria to choose the best place to buy lab grown diamonds in Australia. These 7 choices take into account the different ways most people choose their suppliers. Rest assured that whichever you choose, will be great.