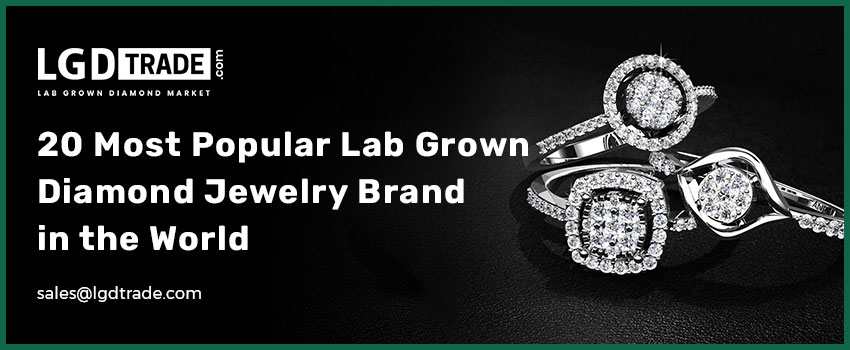 One of the best strategies when shopping for lab grown diamonds is to identify the top brands. This way, you are sure that you are purchasing quality diamonds. Certain manufacturers have made a name for themselves among the 20 most popular lab grown diamond jewelry brand in the world.
Right here we shall feature all 20 of them and tell you a bit more about these brands. Celebrities, royalty, and lovers of the finer things in life have been associated with the lab-grown diamonds these brands have popularized. You may already know some of them, but certainly, you will see a few you did not know about and you should try out.

VRAI
This brand is known for its hand-chiseled diamonds that create the perfect cut and look unique in comparison to other lab grown diamond jewelry. This brand is the result of dedication to artisanry. The people behind the jewels have decades of experience which can be seen in the finished product. VRAI also publicizes the fact that they create zero emissions, making their diamonds not just a girl's best friend but earth's best friend as well.

Brilliant Earth
Do you fancy being part of the creative team? That is what Brilliant Earth offers. In a virtual consultation with the creators of the diamonds, the client can choose the stone they want and then go on to choose the metal and its design. These pieces have more than sentimental attachment for the owner. When you take part in the design process, you feel like the parent of that diamond ring. Who says lab grown diamonds are not sentimental gems?

Clean Origin
For every piece of jewelry sold, Clean Origin plants a tree. Can a brand get any cleaner than that? Shoppers who love environmentally conscious brands are drawn to Clean origin because of this. But they are not foresters, they are Jewelry makers and sellers. The work of art that is cleanly produced by this brand is impressive. You can shop with a guilt-free conscience but also enjoy exquisite products worth the money you are spending.

Ritani
They might be a big brand known for creating some of the best products, but Ritani has no problem allowing its customers to choose their own designs. You can make a choice from several shapes and colors and then determine how it should be fitted. Another amazing thing about them is they are transparent about the price of every item. You can find out how much it costs to make the diamond and what the company makes from every sale.

Blue Nile
Diamonds don't come cheap, but who says you have to break the bank to own them? That seems to be the philosophy of Blue Nile. The lab grown diamonds are quality, but the price is reasonable. This could be attributed to the fact that the company has perfected the art of cutting down overhead costs. It is no surprise anyway because they have years of experience. Blue Nile is an arm of Light-Box who have a solid background in the jewelry industry.

Swarovski
You are bound to see this brand on the catwalks in Paris, New York, London, and all the other fashion capitals in the world. Swarovski lab grown diamond jewelry is legendary. Of course, the name was made while they did natural diamonds and now the lab diamonds ride on the fame of the natural diamonds. So, anyone looking to enjoy a luxury brand but with the piece of mind that what they are wearing is ethical will choose Swarovski LGD.

Lark and Berry
Do you know Meghan Markle? Yes, the Duchess of Sussex. No, she doesn't own Lark and Berry, but she seems to love jewelry from the company. She has been seen a few times wearing lab grown diamonds made by Lark and Berry. If royalty can wear them, then the brand must be popular and quality. The earrings and necklaces are stylish and they offer different colored gems as well.

James Allen
If variety is the spice of life, James Allen is the spice shaker. No brand offers as much variety as this one. Diamonds in different shapes, sizes, and colors are available. What's more, they also give customers the choice of custom-made jewelry. This is a favorite choice for people looking for engagement rings, but you can also get customized earrings, necklaces, and much more. The online store is frequently visited because of the 360-degree view of all the jewels. The decades James Allen has under its belt in this industry play a big part in making them popular.

Noemie
When it comes to contemporary designs, few brands can match up to Noemie. Their inventory is pure impressive. Young people find their lab grown diamonds appealing and relatable. The pricing is also attractive for young people trying to get value but at a fair price. All the lab grown diamond jewels sold under this brand are certified.

Pandora
Luxury that stands out is what Pandora is popular for. They make unique cuts that make their jewelry stand out. Pandora is like a lifestyle for many of its customers. It is hard to think of getting lab grown diamonds that are not Pandora diamonds.

Kimai
Part of caring about our environment is avoiding wastage. Kimai demonstrates that with their lab grown diamonds made to order. They also use recycled gold when making jewelry. It is no surprise that the brand is popular among minimalists and people who believe you have to do more than just make lab-grown diamonds to show you care about the environment. But make no mistake, their designs pull all the stops to ensure they create the best pieces for their clients.

Queensmith
This brand gives clients the chance to see as they craft their diamond pieces. Queensmith jewelry is made in a part showroom part workshop. A shopper can make a choice of diamonds on display or book one that is still being crafted. They have also won the UK bridal jeweler award twice in a row.

Steven Stone
A brand cannot have 80 years of existence and fail to make it into the list of 20 most popular lab-grown diamond jewelry brand in the world. What has worked for this brand in the natural diamond world has been transferred to lab diamonds. A wide selection of colors, shapes, and clarity is available to the customers.

Grown Brilliance
These diamonds mirror the brilliance of natural diamonds but they remain ethical and environmentally friendly. The US-based brand is one of the oldest in the industry with 40 years of experience to speak of. Fine sparkling diamonds in different shapes and designs are what many have come to associate the brand with.

Vibranium
This is a big brand with reasonable pricing. The lab-grown diamond jewelry is the epitome of luxury, but luxury at a price that will not have you paying for it through generations. However, the pieces will last generations. Vibranium creates timeless pieces. The young and the old will love what they see. It's the kind of jewelry you go for when you want to gift someone something special.

Diamond Foundry
Effortless customization is what they pride themselves in. Couples looking for personalized rings find this brand reliable. They have a wide selection of engagement and promise rings. But it's more than just rings, they also have jewelry from earrings to impressive tiaras. There is a world of choice from Diamond Foundry.

12Fifteen
For an exclusive online experience, this is the brand to go for. They help keep the price of the jewels down by selling directly to their clients anywhere in the world. The online store allows you to find whatever you want quickly and easily. There is even an option to create your own engagement ring. 12Fifteen is a brand you can look to for convenience, quality, and fair pricing.

Oui by Jean Dousset
This is a rather new brand but rides on the popularity of its owner. Oui by Jean Dousset was founded by the grandson of the Cartier founder. Dousset embraced lab grown diamond rings after a survey pointed him in that direction. He found out most young couples want affordable rings and they would gladly embrace LGD jewelry. The new brand is popular among young lovers who like the fact that they are listened to.

Smiling Rocks
It's not just the rocks that are smiling, the planet smiles and its customers are smiling as well. This brand was inspired by a desire to leave behind a legacy of responsible living. We cannot live like we do not realize earth needs us and we need the earth. Lab grown diamonds are a sign that we care about the environment.

Summary
Lab grown diamonds have made a big impact in the fashion and style world. They really are no different from natural diamonds in makeup and durability. But, they are not a menace to the environment and are ethically sourced. To crown it all, they are 50 percent cheaper than natural ones. It is no surprise that big jewelry brands are adopting them and becoming popular. You can try out any of these brands to get your lab grown diamond jewelry piece.