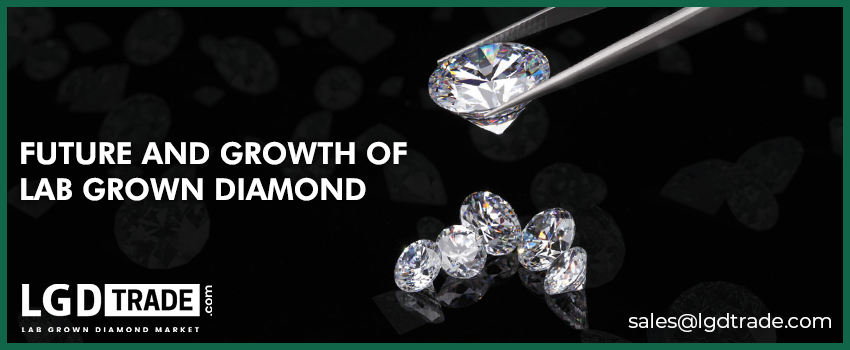 The Future and Growth of Lab Grown Diamonds is shining bright. If you've heard the term "diamond" in the last year, you've probably heard about lab-grown diamonds. These diamonds are available in a range of unusual shapes and sizes and are quickly gaining popularity. Over the last year, lab-grown diamonds have been subjected to a slew of scrutiny. Despite their strength, they have escaped unharmed. 
Currently, the Future and Growth of Lab Grown Diamond account for a minor portion of the trade. Nonetheless, they have managed to shake up the whole business. These artificial diamonds have the potential to change people's perceptions about diamonds. These rare diamonds have done a lot to form views and affect purchasing habits in the last several months. 
Labor violations and a chronic lack of transparency have plagued the mined diamond business, with reform initiatives showing mixed outcomes. The lab-grown diamond business arose to provide clients with a cleaner diamond alternative. If created under ideal conditions, lab-grown diamonds may have a lower carbon footprint than mined diamonds, but there are additional environmental, social, and economic issues to consider. Critics are concerned that companies and consumers are adopting lab-grown diamonds as a sustainable option without fully understanding their full implications and possible dangers while disregarding efforts to clean up the mined diamond sector.
Here are some industry experts' thoughts on the future of lab-grown diamonds:
Are diamonds indestructible?
Pandora, the world's largest jewelry manufacturer, declared earlier this year that it would no longer utilize mined diamonds and instead employ lab-created diamonds.
Diamonds produced in a laboratory have been around since the 1950s. However, because of high energy expenditures and the inability to make 'beautiful' diamonds, they were primarily utilized in industry, such as drill bits on heavy machinery. 
However, like with lab-grown beef, technology has progressed, and costs have decreased. Lab-grown diamonds are now assisting buyers in avoiding the environmental and social issues connected with the 'natural product.
Choosing to be Sustainable:
Young people are driving the shift in purchasing power, just as they are shifting in plant-based meat and dairy substitutes. When it comes to costly jewelry, they prioritize sustainability.
Perhaps this is why a lab-grown diamond business has become the first to be 'Certified Sustainable' and 'Certified Climate Neutral,' with attention being paid to water usage, traceability, and workforce diversity.
Mined diamonds can no longer be advertised as 'natural,' as opposed to lab-created diamonds. Both are now recognized as "genuine" diamonds by the jewelry industry.
Future and Growth of Lab Grown Diamond : Lab-grown diamonds are anticipated to rise by 22% each year
Experts predict that the lab-grown diamond business will develop at a rate of 22% each year. A large portion of this increase will be driven by technical improvements, improved production economics, and lower pricing. In recent years, lab-grown diamond production has skyrocketed, with 6-7 million carats created in 2020 alone. However, it is still a tiny industry in comparison to diamond mining, which peaked at 152 million carats in 2017 and is presently estimated to be around 111 million carats. However, lab-grown diamonds are increasingly being marketed to price- and environment-conscious young customers.
The sale of lab-grown diamonds has more than doubled:
Yes, it is correct. According to expert research, the sale of lab-created diamonds has increased eightfold in the last 18 months. Now the issue is whether lab diamonds will represent a danger to mined diamonds at this rate or if they will remain an excellent old side product. What are your thoughts? Will mined diamonds, and lab-grown diamonds coexist harmoniously, or will their markets clash?
Fashion is enjoyable, but it is not engaging:
Do you know how they say diamonds are eternal? And, indeed, they are. For decades, the mined diamond business has flourished on marketing genuine diamonds as the ultimate emblem of everlasting love. Mined diamonds, you know, are non-renewable; they only occur once in a lifetime. So everything fits. However, the introduction of lab-grown diamonds has changed everything. Diamonds may now be grown in laboratories.
Awareness:
In 2018, the International Grown Diamond Association (IGDA) commissioned MVI Marketing to perform a market survey. Over 1,700 customers who had just purchased or were in the market to purchase diamond jewelry were questioned, with MVI also considering results from previous surveys conducted since 2010.
In the previous five years, knowledge of lab-grown diamonds has increased from less than 10% to well over 50%, and over 90% of those in the market for an engagement ring indicated they would consider and certainly buy a lab-grown diamond. 
Technology:
In recent years, lab diamonds' technology has made significant advancements, allowing businesses to create higher grade diamonds more quickly and cheaply. It has resulted in greater competition between companies that produce lab diamonds and others that produce mined diamonds. According to research commissioned by the Antwerp World Diamond Centre, it now costs $300 to $500 per carat to manufacture a CVD lab-grown diamond, compared to $4,000 per carat in 2008.
Environmental credentials:
However, lab diamonds are not without flaws. The lack of openness makes obtaining reliable statistics to compare the carbon footprints of mined versus lab diamonds difficult, although the energy required to manufacture a lab diamond is substantial. According to one research commissioned by the Diamond Producers Association, the greenhouse gas emissions produced by mining natural diamonds are three times lower than those produced by producing diamonds in a lab. The DPA represents seven of the world's major diamond miners, including De Beers, Alrosa, and Rio Tinto. However, the Federal Trade Commission in the United States has advised some lab diamond businesses to be cautious when marketing themselves as "eco-friendly" without proof to back up these claims. Among them were Ada Diamonds and the Leonardo DiCaprio-backed Diamond Foundry in the United States. On the other hand, the latter claims to be carbon neutral and to use exclusively renewable energy, as certified by third-party Natural Capital Partners.